rick reed
the way things go
(eeaoa035) 2xLP/MP3

Here, finally, is the gorgeous presentation that astronomy domine Rick Reed's music so richly deserves: Two black vinyl LPs, pressed on 180-gram virgin vinyl, with full-color labels, inside black poly-lined sleeves, housed in a matte-finish full-color gatefold jacket adorned with Reed's vibrant and fantastically evocative paintings. Included with each copy of this set is a full-color download card featuring access to high-quality MP3s of the complete contents of the vinyl records. This package has been issued in an edition of 500 copies.

Welcome to an atmospheric realm of blurred synth drones, textural shortwave radio, and vivid sine waves. Welcome to the highly individual sonic world of Rick Reed. For around 25 years now Reed has been toiling away, composing, performing, and fine-tuning his craft of very personal and powerful electronic meditation. And his expertise is plainly evident. His is incredibly engaging music with an almost physical presence. Reed's level of mastery is virtually unparalleled - it seems that no one else can combine these elements with quite the same finesse, with the same ear for arrangement, or with the same sense of purpose.

If Rick Reed's is not yet a household name it is likely due to his relatively slim body of work. The Way Things Go, then, is an attempt at resolving this issue, for here are 83 worthy minutes of top-shelf electronic tonalities. The Way Things Go covers a span of nearly ten years of work, and yet the material flows very naturally from one piece to the next. Yes, the evolution of technique is on display here, but Reed found his voice some years ago and his stylistic development has therefore been suitably subtle and deliberate. This is the work of a composer who is extraordinarily familiar with the sounds at his disposal and whose editorial skills are equally honed.

Massimo Ricci, inspired by one of the pieces in this set ('Hidden Voices'), has noted:
"I can't stress enough the importance of composers like Reed, who thrive in semi-obscurity and without the praises given to people [worth] less than half their value, continuously finding alternative interpretations of the word 'emotion.'"
The observation is astute and the idea of an emotional presence is crucial to understanding Reed's work. His music is sometimes noisy, sometimes tranquil. Harsh frequencies give way to beautifully sustained tones. Jarring textures and lilting melodies are both to be found in this sphere. Above all, though, Rick Reed's work is challenging. There is no easy classification for music of this complexity. The curious listener is best advised to investigate personally.

In addition to his solo work, Rick Reed has participated in a number of productive collaborations over the years with Keith Rowe, Jgrzinich (in Frequency Curtain), the Abrasion Ensemble, and SIRSIT, among others. He currently resides in Austin.

Total running time: 83 minutes

Track list:
capitalism: child labor


celestial mudpie


hidden voices pt. 1
the way things go (for c. h.)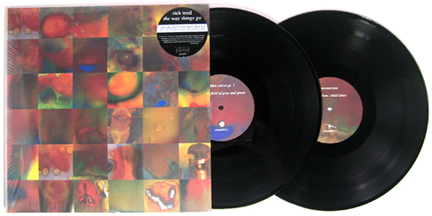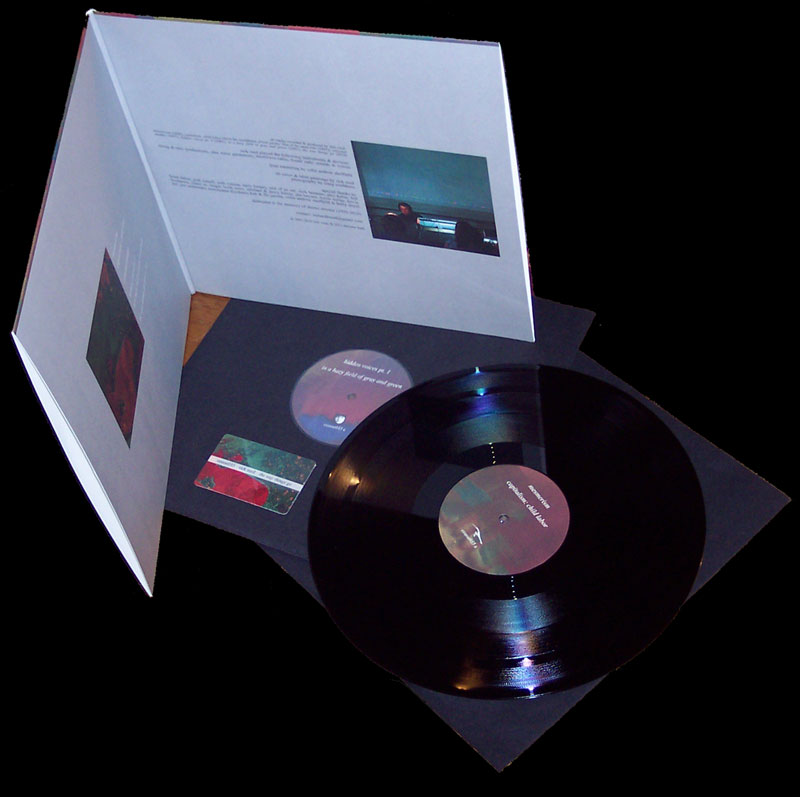 Texas musician Rick Reed is here with a sumptuous double LP called The Way Things Go. I am ashamed to say we have had this in the vinyl waiting list since May 2011, if the release date is anything to go by. Reed is a composer who layers his tones using tone generators, synths, and radio waves, and believes in long-form duration to achieve his aims. There are only six tracks across this 83-minute double package, which gives you some idea of his sense of scale. Each work is an enormous abstract expressionist painting, with dramatic timbral shifts taking place across unexpected and subtle turns. Reed is not one of those near-silent mysterious droners, either; he gives you a lot to listen to, a lot to digest, and as well as thinking big, he also believes in making it loud. For full appreciation of these solid and very very continuous electronic drones, turn up amplifier loud and prepare to float in a colourful and intense atmosphere that has no end in sight. At least three titles give us a clue to the Rick Reed aesthetic: 'Mesmerism' is the effect he intends to have on your psyche, lulling you into a trance with his throbbing tones; 'In a hazy field of gray and green' is the precise visual analogue we need to understand the contours of this near-shapeless music, and through naming colours he suggests its rich tonal effects (unlike some droners, Reed does not neglect the root note); and 'Celestial Mudpie' indicates the more spiritual claims to his music, promising a heavenly experience to the listener, while at the same time admitting it's not so grandiose, and he might not be much more than a kid in a sandbox making mudpies. I should stress that "muddiness" is not one of his characteristics though, and this heavy sound has been so well realised, recorded and pressed that when spun it passes on the complete desired punch, groove for groove, in highly vivid manner. Reed did the cover paintings too. The label is still puzzled why Rick Reed is not better known as a composer, and it's true he does have enough droney capacity here to outlast any of his English counterparts – e.g. Colin Potter, Nurse With Wound, Mirror – who continue to receive many plaudits.
- Ed Pinsent, The Sound Projector
Maybe it's because he's a Texan, but Rick Reed likes things BIG. Using little more than a few old Moog and EMS synths, a sinewave generator and a shortwave radio, he builds vast, spacious sonic edifices - think Eloy's Gaku-no-Michi, Roland Kayn's Tektra, Joe Colley's Disasters Of Self, and Jason Kahn's Vanishing Point, alongside which the 83-minute span of The Way Things Go can stand proudly. Listening to this splendid double album again - and again and again - I've come to the conclusion that the word "drone" should be ceremoniously banned in music journalism. These days it's hard to find a single piece of electronic music, contemporary classical or post-rock or whatever, that doesn't go in for sustained sonorities of some kind, but it's about time we formalised a set of terms to differentiate between them. Reed's "drones" (if it's OK with you, I'll put quotation marks around the wretched word for the time being) are not things to "get inside" (La Monte Young), or, autrement dit, nod off to or paper your walls with. Ambient this is not. Sure, Reed is a master architect when it comes to constructing tower blocks of superimposed synth chords, sinewaves and shortwaves, but he's just as good at pulling the plug and leaving listeners in the dark to find their own way out of them. For example, "Capitalism: Child Labor", which begins with a blast of machine noise and inchoate babble that quickly settles into dull monotony. Like child labour, I suppose. Except that it's not dull (the music that is, not child labour): it's oppressive, unsettling, seemingly static but not at all so, with each layer of Reed's mille feuille pulsing and buzzing with barely suppressed dangerous energy. And, as if to remind us of Thomas Hobbes' famous line about life being nasty, brutish and short, it ends with another deadly thud. Or take "Celestial Mudpie", which emerges from the shudder of needle on vinyl, synth swoops and gloops crescendoing ominously before being suddenly swallowed into silence, out of which wavering, slightly queasy loops emerge from behind each other along with strange crunches and what could be (might once have been) birdsong. Eventually all these fade out to leave a glowing synth chord, buried in which is a gently oscillating fourth - though I could have sworn it was a distant police car first time I heard it.
Nope, Ambient this is not: it sucks you in, sticks in your ears, gets under your skin. And there's something about it that just has to be on vinyl: scuffed, scarred, fluttery and flawed, gloriously analogue, a heavy black object to carry through your life. When the skaters have skated out of earshot and the axolotls are extinct, when so-called hypnagogic pop has haunted itself into oblivion and the wolf eyes have closed, to sleep perchance to dream, The Way Things Go will still be slowly revealing its secrets, little by little, into the inner ear of those fortunate enough to own a copy. Make sure you're one of them. (Album of the year - so far!)
- Dan Warburton, Paris Transatlantic
The man's name is probably unfamiliar to you unless you run in experimental music circles, partly because he joined the music revolution relatively late in lfe after deciding he wanted to make the kind of music he was listening to while painting (his original vocation, and one he still pursues; he painted the work that adorns the cover of the double-album), and partly because his commitment to quality over quantity has made his release schedule extremely limited and sporadic. (Not to mention that like most of the fringe artists in Austin's underground music scene, he is far less interested in promotion than performance.) Nevertheless, his name is highly respected in experimental music circles (he's performed with the legendary Austin sound painters The Abrasion Ensemble and members of AMM, among others, and was in fact once referenced in the title of an AMM record) and he plays a regular and vibrant part of Austin's experimental music scene. Elevator Bath has been documenting his work (or part of it, anyway) for a while now, and with this double album, they have generously presented us with what may be his best work yet.
The six tracks on this double-album flow together so seamlessly and organically that it's hard to believe they were recorded individually over the span of a decade. The first side alone -- featuring "mesmerism" and "capitalism: child labor" (from the soundtrack of the 2005 Ken Jacobs film of the same name) -- is absolutely amazing; using sine wave generators, old-school analog synths, shortwave radio, and found sounds, Reed sculpts two monumental tracks of shimmering drone and harmonic noise that take their time building in ominous fashion, stretching out the tension before culminating in thick waves of sound that are both beautiful and otherworldly. His allegiance to late 60s / early 70s Krautrock and spaced-out psychedelia is at its most obvious here, and he has assimilated all the right things from his listening habits. The album would be worth it for just these two pieces alone.
The rest of the tracks are worth plenty of attention in their own right, though. The flip side of the first record is taken up entirely by "celestial mudpie," where extended periods of silence segue into bursts of static and clouds of sound like electronic thunderstorms and thick slices of machine-like drone. Strange noises and textures weave in and out of the drone action as the piece rolls on, and the ultimate effect is the audio equivalent of an abstract expressionist painting. The two tracks on the first side of the second album, "hidden voices pt. 1" and "in a hazy field of gray and green," continue to bring the drone in a big way, especially on the first track, which is dominated by rippling sheets of drone, high-pitched sine-wave feedback, and ghostly electronic tones. The latter is an audio homage to textured sounds, opening with a crackling noise much like a dusty record revolving on a turntable and gradually expanding its sonic palette to include a wide variety of tones and noises, from shrill feedback to oceanic drones and more. The climax of the album is the side-long title track, an extended exercise in creeping drone mixed with high-frequency noise; over 22 minutes, waves of harmonically rich sound ebb and flow like the tides, washing over the listener with a serene and unexpected grace.
A word or two about the packaging: this is what people mean by quality presentation. Two LPs pressed on 180-gram virgin vinyl, housed in poly-lined sleeves inside a heavy matte-finish gatefold jacket featuring Reed's own exquisite artwork. The release also comes with a beautiful plastic download card (seriously, I put the card up on my desk just because it's a nifty piece of art in its own right) giving the listener access to the entire album in high-quality MP3 format. This is limited to 515 copies, and given the album's phenomenal quality and the fact that all but one of his earlier releases on the label are sold out, I'm guessing it won't be available for long. You need this. This is already a contender for my top ten favorite albums of the year.
- RKF, The One True Dead Angel
Over the years Rick Reed has played with Keith Rowe, Jgrzinich (as Frequency Curtain), Abrasion Ensemble and Sirsit but also explored the world of drone music as a solo artist. Hard to say what he does to create his drone moves. One could easily think of a bunch of analogue synthesizers, or perhaps heavily treated field recordings. Maybe its all computer work? One look at the cover though and its revealed: moog and EMS synthesizers, sine wave generators, shortwave radio, found radio sounds and voices. The pieces on this double album are from anywhere between 2001 and 2010 - the title piece. Its both an excellent overview of his work and a very coherent body of work. One could easily argue that in those ten years Reed didn't progress at all, and that his approach to composing stayed rather the same. That's one way of looking at it. One could as easily argue that it all makes up for a very consistent approach that reveals a fine craftsmanship in creating dense electronic landscapes. In those ten years Reed never released much work, so its hard to say that he is overproductive and that 'it is always the same'. I thought this was all excellent music, a fine cross road of musique concrete and electronic music.Taking the best out of cosmic music, drone and experiment and put that into all immersive music. Music that sucks you totally into in it, like a hot bath, especially when you play it loud. Very refined.
- Frans de Waard, Vital Weekly
The Way Things Go is a very impressive electro-static drone anthology documenting a bunch of barely released material from the Texas gear junkie Rick Reed. This is a man who's been tinkering with vintage synths, shortwave radio, and sinewave generators for well over 25 years, woak from the classic progressive electronic sound of the likes of Klaus Schulze and Conrad Schnitzler, through the nihilism of the post-industrialists (e.g. MB, Arcane Device, John Duncan, etc.), and into post-noise constructs of liquid psychedelia from Emeralds and all of their satellite projects. In so many ways, this could have found a nice home on John Elliott's Spectrum Spools imprint, but Reed stays with the ever impressive Elevator Bath.
There is some overlap between this collection and the self-published Celestial Mudpie album that Reed issued a couple years back. In particular, there's Reed's very evocative and chilling soundtrack to the Ken Jacobs film Capitalism: Child Labor that is an intense piece of tonal vibration, slipping from Andromeda Strain styled pulses upon rotating layers of a atonal hums, arching drones, and nervous lines of analogue static. Another high profile soundtrack is "Hidden Voices Pt 1." which was composed for the Hermann Nitsch gallery exhibit "The Orgies Mysetries Theater" in Houston back in 2005. This track contains the bloodcurdling atonality that Nitsch composes for his own aktions, but Reed twists the stratified dissonance with deep space blorp, shards of Birchville-esque distortion, and shortwave SSB detunings. The whole album follows suit with muffed static cracklings amidst radioactive clouds of analogue fired tone float, sulking at times into a melancholy atmosphere but always immensely complex. Very highly recommended stuff, and yes this does come with a download card. Nice.
- Jim Haynes, Aquarius Records